The Glencoe Wood Nature Reserve
Laird, Lords and Ladies of Glencoe made it possible - It's open to all visitors
The first Nature Reserve in Glencoe Wood, opened in 2007, is made up of thousands of plots which are supported by a global community of Lairds, Lords and Ladies. This land is free to visit but for the best possible experience we recommend that you book a guided Meet&Greet tour.
This reserve, located just 10 miles from the historic Glencoe, is also an established 4 star visitor attraction (rated by the Scottish Tourist Board) and we encourage you to visit and see the progress your support has made possible.
This nature reserve is sustained by the ongoing support of the over 300,000+ community members. With the purchase of every plot, we were able to work with our partners to plant more trees, build more shelters for the animals that inhabit the reserves, and progress in our efforts to conserve the land for future generations as well as offer a unique and charming gift to those who support the progress of our efforts.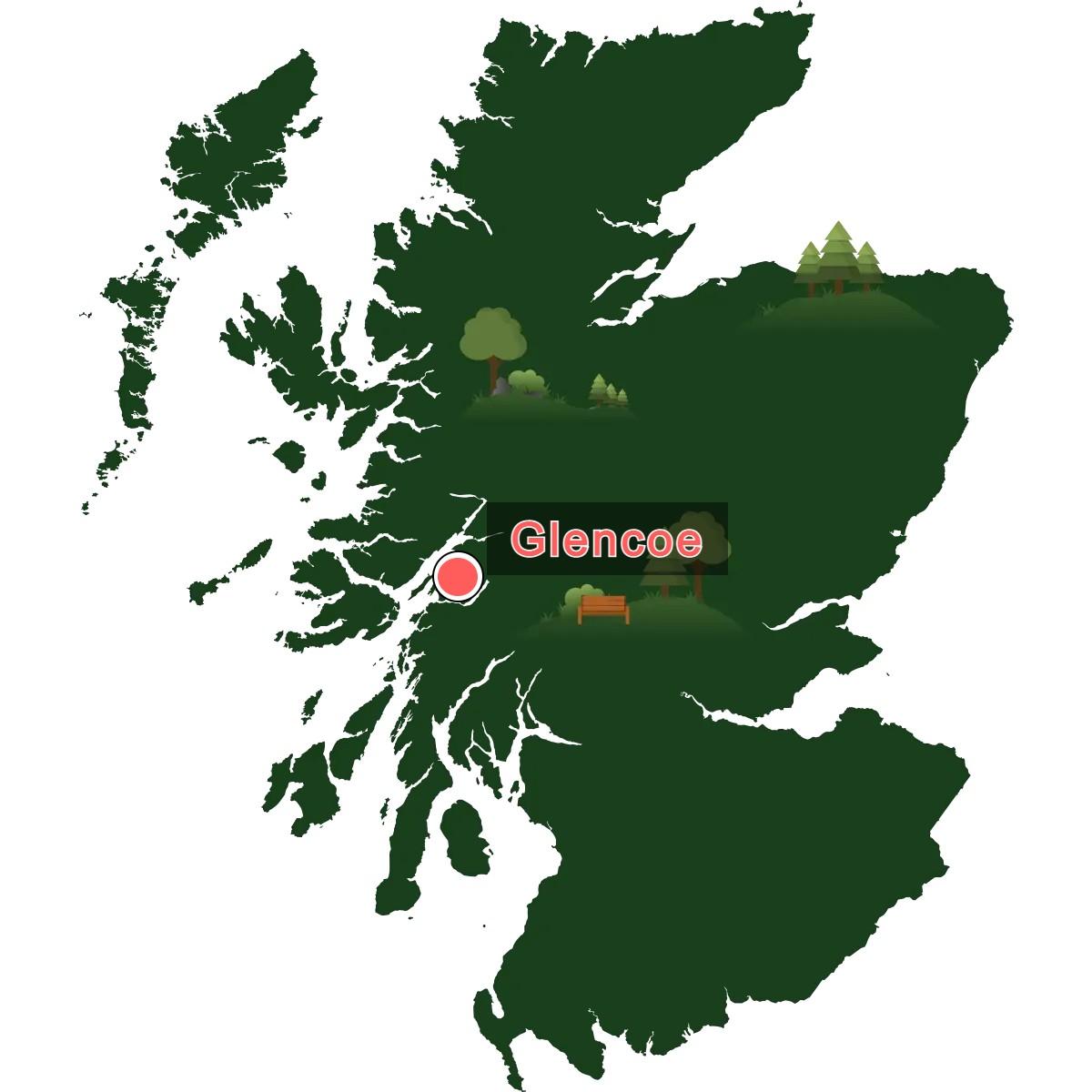 Visit the Nature Reserve
Whether you're dropping by to visit your plot or just looking for a beautiful place to spend the afternoon, the Glencoe Wood Nature Reserve couldn't be easier to find. We're well signposted on all main roads and area a reasonable distance from many popular destinations in Scotland!
Our Meet and Greet Service is a very special offering especially for our community and allows all our Lords, Ladies and Lairds to visit The Highland Title Nature Reserve with an enthusiastic and knowledgeable guide. This service must be booked well in advance as this is run by our very busy volunteers. Particularly in summer months, we can become fully booked sometimes months in advance. A voucher is included in your pack (in all 100 sqft plots) – or can be purchased before you visit. To book an appointment, simply fill out the request form and we will be in contact.
The local Visitor's Centre
You may, of course, visit the nature reserve without the special Meet & Greet Service but we truly feel the experience is enriched with the added benefits of a guide. Everyone owning 100 square feet receives a voucher for one free trip. Vouchers are also available to purchase for a small sum. You are also welcome to enjoy the amenities of our Visitors' Centre, located at the reserve's main entrance.
Free WiFi

Visitor toilets

Maps and walking trail routes

Volunteers – ready to take 4×4 tours for those who have pre-booked with a voucher!
Reasons to visit
Visit the best rated nature reserve of Scotland

Take in the views over Loch Linnhe

Take advantage of the local Meet and Greet service

See the progress your support is facilitating
Exploring the secret garden

Cycling the routes around the reserve

Numerous hikes and walking routes

Test your photography skills at our many scenic viewpoint

Two hides help you observe the many birds and other animals that call the reserve home

Check out SeaXplorer in nearby Ballachulish for exciting boat tours
The most important thing is to appreciate the beauty around you! The Glencoe region is a beautiful, historical part of Scotland and there is a great deal to discover in the area. It is truly a destination for all seasons and in order to get the best out of the time you spend here, check out Discover Glencoe for some great advice on what to see and do!
Personal Meet & Greet Tour
If you are already a landowner, then you've chosen to take an active part in restoring the once lush Highland landscape, ravaged by commercial forestry and overgrazing over the years, to its former glory. You are also helping to conserve and protect the plants and animals that call these areas home and keep them safe from further devastation. Whether you can make it to Scotland or not, we give you the chance to locate your plot in 3 different ways (see next paragraph)!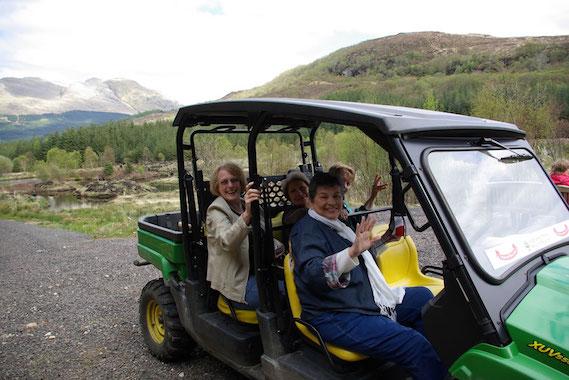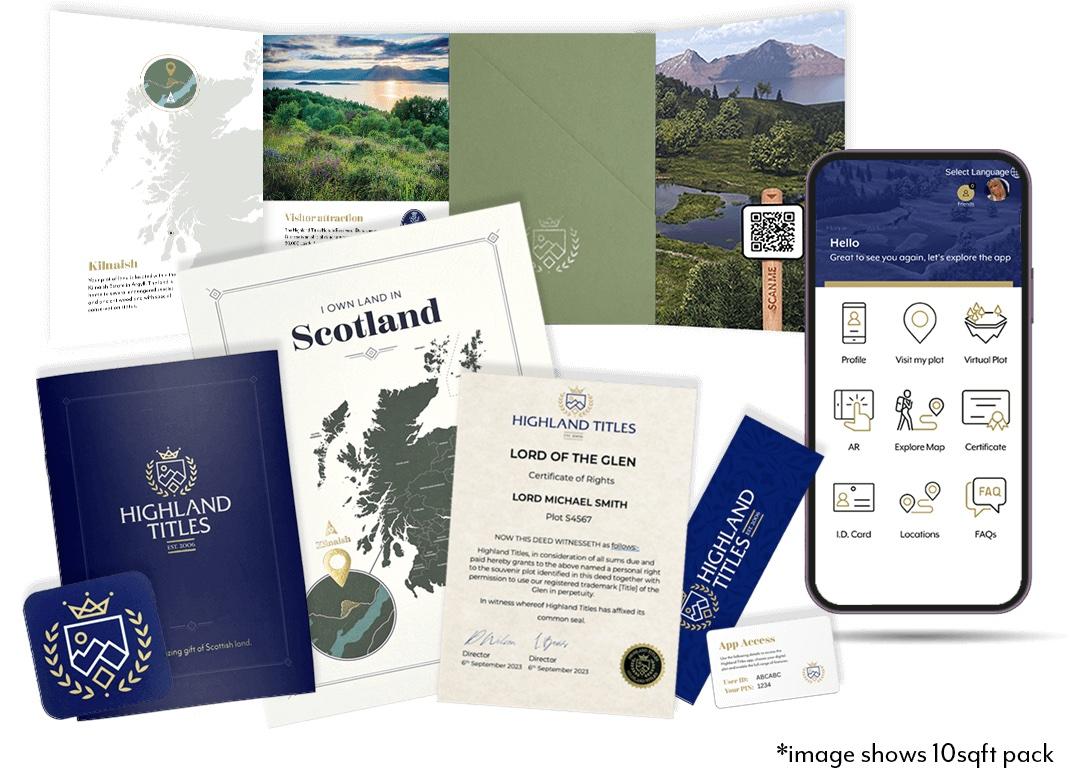 1. Scottish Estate Manager App
"Digital" plots of land available from the app (App Access Card required) - included with all 5, 10  and 100 sqft plots

Stay in touch with the nature reserve from anywhere in the world

Free to download and available for iOS and Android devices
2. Plot locator map
Each plot is uniquely identified by its Ordnance Survey (OS) Grid Reference number

This will allow you to get to the approximate location of your estate

Because it is impractical to stake each plot, you will require a GPS to get the last few metres to the exact location of your estate
3. Using your own GPS device/Google Maps
Along with your unique OS grid reference number, your Certificate of Sale includes the latitude and longitude co-ordinates of your plot

Simply enter the co-ordinates into your device and enjoy the adventure

You have access to the welcome dashboard to find your plot, including Google Maps, Ordnance Survey coordinates and What3Words location
Want to visit the Nature Reserves?
Nestling in the heart of the Scottish Highlands and within easy reach of popular destinations such as Fort William, Oban, Skye and Inverness, the nature reserves are easy to find and a pleasure to visit. The Glencoe Wood Nature Reserve, near Duror, has a visitor's centre and offers a "Meet and Greet Service" for Lords and Ladies. Though the reserve at Kilnaish and Mountainview does not have these facilities, it is still a great place to go for a self guided hike through the many nature trails.
If you buy a souvenir plot of 100 sqft, a personal Meet&Greet tour is included at the Glencoe Wood Nature Reserve. All other plot owners (5 and 10 sqft) are welcome to book a Meet and Greet tour.
Finding the reserve
Glencoe Wood Nature Reserve
Duror of Appin
Ballachulish
Highlands
PA38 4BW
To find the car park, set your GPS for: [56.627174,-5.311716]
Find the Glencoe Nature Reserve using the What3Words location app or use: https://what3words.com/yummy.swordfish.enlighten
Arrive by car
The Glencoe Wood estate is located off the main road (A828) between Oban and Fort William in the Highlands of Scotland. The nearest village is Duror, and the nearest Post Code is PA38 4BW. Parking at the Nature Reserves is free.
Arrive by rail
The nearest train stations are Fort William (approximately 20 miles away) and Oban (approximately 25 miles away).
Arrive by bus
Citylink coaches leave from Edinburgh and Glasgow regularly and stop in Duror. The occasional Stagecoach service from Fort William terminates at "Duror, School". Alight here and walk south about a mile and the entrance to the nature reserve is on your left, just before crossing the bridge over the Salachan Burn.
Nearby Airports
Glasgow (2 hrs 15 mins)

Edinburgh (2 hrs 45 mins)

Inverness (2 hrs 30 mins)
Support our Nature Reserves while conserving Scotland's wilderness
Become a Laird, Lord or Lady with your own Plot of Land in the Scottish Highlands
PLEASE NOTE:
* You will be addressed by your choice of Laird, Lord or Lady by us and within the 300,000+ strong community. Please note you cannot buy a noble title. This is for enjoyment purposes only.
** You obtain a personal right to a souvenir plot of land. This is a form of heritable property that you can pass on to future generations. Highland Titles remains as the registered landowner and manages the land on your behalf.
*** Instantly available downloadable documents: Please contact our customer support team after purchase for an electronic copy of your certificate in addition to the full set of documents in the mail.